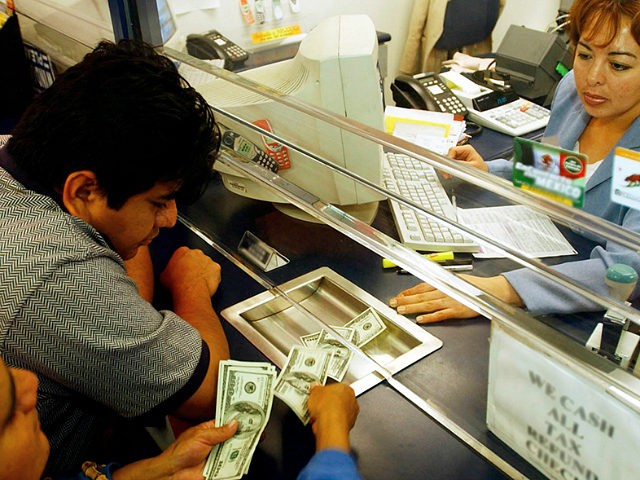 It's kind of annoying that not only do we have to provide welfare to these people (73%-85% of Mexicans in the United States are on some kind of welfare, legal or illegal) but they also take our money and send it to Mexico, where it props them up and drains our own country.
"Not only do Americans give Mexico millions in foreign aid each year, Mexicans take in some $20 billion to $25 billion annually in remittances, according to the World Bank, much of it from the U.S. In total, foreigners took $54.2 billion in remittances out of the U.S. economy in 2014, with Mexico and China receiving the greatest sums from their citizens abroad."
I really do not understand why we don't tax the hell out of this exported money. It is ours in a way.
"American taxpayers are thus forced to pay for the welfare and schooling of millions of Mexican citizens and their children while enduring the costs of crime (gang activity, drug trafficking) and stagnant wages that unchecked immigration brings.
"The $ 20 billion being sent to immigrants' grandmothers in Chiapas is forever eliminated from the American economy— unavailable for investment in American companies, the purchase of American products, or hiring American workers. That's a cost of immigration that Americans are never told about," conservative author Ann Coulter wrote in the influential Adios America about remittances."
Those second language ESL classes are so expensive to run too. I can't believe the stupid fk traitors in our country allows this to happen. Or rather worse, they deliberately MAKE it happen through open border policies. I'd imagine it's even worse in Canada, Great Britain, and Europe, where they're pretty cucked hard over there into accepting so many 3rd world savages and rapefugees. Er I mean "refugees".
"Trump issued a memo in April 2016 telling Mexico he would tax remittances flowing out of the U.S. economy, or the Mexican government could issue a one-time payment of $5 billion to $10 billion for a U.S.-Mexico border wall."
It should be more like $20-30 billion to not only pay for the wall but to help cover the funds needed to repair all the damage those idiot illegal immigrants did to America.
In the end though, they will all have to cave to Donald Trump. Everybody wants our money and knowledge so we just gotta make sure we don't give it out freely. We kick out all the illegals while simultaneously build the "Great Wall" as Trump is now calling it. Even though he said in the past we only need 1,000 miles, I'd say we should just do the full amount of 2,000. Why not.
China's Great Wall is about 13,000 and is still standing. Granted they used slave labor from conquered tribes to build it but today, we have technology and caterpillar tractors. Plus, I want to work on the wall since it would seem like a decent paying job, I'd be doing great for America, and it's probably going to be fantastic exercise for me.
January 20th, 2017 is only 12 more days. Then this damn nightmare is finally over. America will finally begin the process of becoming great again and then with the illegals gone, the huge Great Wall built, we can finally crush the dengerate feral liberal ideology once and for all. Their stupidity will never infect us again.
Watch my pro Trump comedy Underdoges on Amazon because it was made in America and I used my own life savings to make it. Support a fellow American citizen!
Source http://www.breitbart.com/big-government/2017/01/04/reuters-remittances-to-mexico-rose-25-percent-after-trumps-election/