In the span of just a few hours, net neutrality is suddenly a world crisis. George Soros bots are spamming the living crap out of me.
What got me IMMEDIATELY suspicious is that ALL the feral liberals are spamming my twitter and websites with "pass net neutrality!" and "Trump's FCC is going to take it away!"
So yeah, I went, 'Ok wtf.'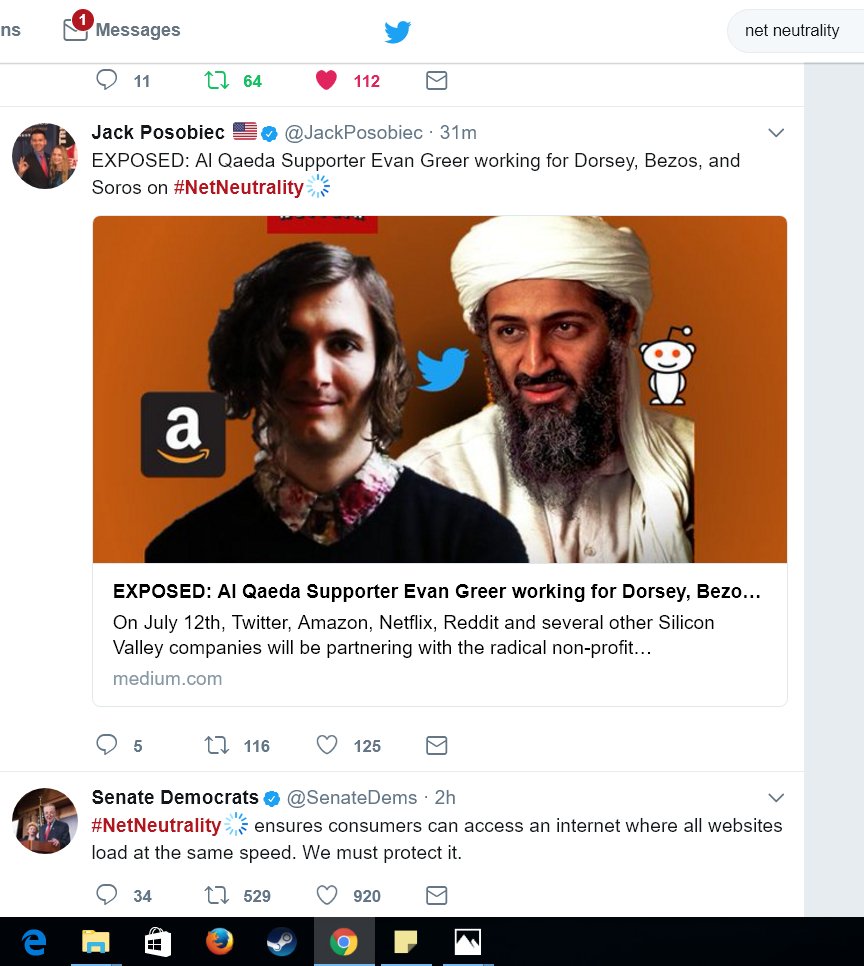 This shrieking is coming from:
New York Traitor Times aka Carlos Slims's blog.
ALL DEMOCRATS
Amazon (twitch.tv which i watch a lot is a video game live streaming website, top 10 most visited website in the world via ALexa.com).
Google. They own youtube.com which you probably know.
Facebook.
George Soros twitter blame russia/trump bots.
The one "lie" is that cable companies will start throttling bandwidth to block or restrict websites that hog a lot of data like netflix, youtube, twitch, etc. Bandwidth is expensive in this country because cable companies themselves are monopolies too, just as scammy as silicon valley tech overlords. Now I do know comcast and time warner were notorious for doing throttling, so I think that might be an actual downside that affects me personally and negatively.
So my personal take is that I hate them all, and we are caught in the middle. I also don't know much about net neutrality as I trust NONE of the proponents OR opponents.
Therefore, my personal take is that we get rid of the net neutrality scam, passed BY IDIOT TRAITOR OBAMA, and then we take the negative consequences, if any. No matter what, if feral liberals really want this, that means they are fucking America and conservatives over, and we must take away a valuable tool from them. I'm basically describing mutually assured destruction.
What would change my mind is Mike Cernovich sharing his thoughts that would encourage "keeping" net neutrality. Jack Pasobiec has already said it's a scam:
If Net Neutrality were a good thing why would the globalists be shilling so hard for it? *think* https://t.co/RG0iCKJ8sb

— Jack Posobiec 🇺🇸 (@JackPosobiec) July 12, 2017
So we'll see how this plays out.
Check out my latest book, Mine Bigly – How to earn 200%-808% percent returns mining bitcoin for less than $5 a month in electricity costs because it'll change your life and you won't have to invest in scams anymore.