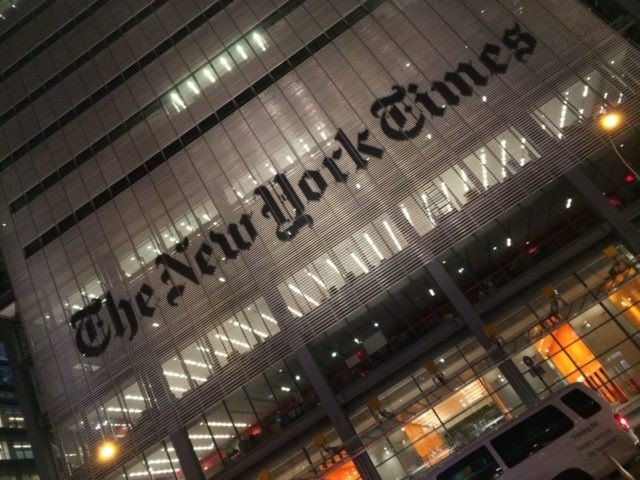 Wahoo! Now that Carlos Slim is losing even MORE money from his NyTimes blog (the entire site, hehe), they had to clear out 8 floors worth of writing space and I hope they fired a lot of people, though the Breitbart article doesn't say so.
The wording by the NyTimes is as always, in shitlib, doublespeak that makes no sense but I will try to help make sense of it anyway:
In a message to company employees, CEO Mark Thompson said that the company had "made the decision to consolidate our footprint across the building to create a more dynamic, modern and open workplace, one that is better suited to the moment."
"We're planning significant investments in a redesign of our existing space in order to facilitate more cross-departmental collaboration. We expect a substantial financial benefit as well. All told, we will vacate at least eight floors, allowing us to generate significant rental income," he continued.
The memo also confirmed that the near 400 employees currently stationed in the floors soon to be located will be moved to a temporary location until the end of 2017, where the redesign will be completed.
The retrenchment effort comes a month after the New York Times announced a 95.7 percent fall in quarterly profit, something which they attributed to restructuring charges related to headcount reductions.
Huh? So they're shifting employees, make no mention of renting out space because they're renovating 8 floors of the building, but then they generate rental income from that? Wtf?
As I said, shitlib doublespeak. In other words they're downsizing but for some reason don't want to fire or admit they're firing a lot of people. In this case 400 workers are displaced so hopefully they all get the axe and have to find new jobs. They'll be glad too, unless they want to keep writing made up lies.
Once Trump is in office, he can immediately begin embargoes on Mexico in every format possible. He'll wreck the Mexican peso so Carlos Slim's money is worthless and their exports will be meaningless. Alternatively, he can also target Carlos Slim directly and break up his monopoly in Mexico, which has pillaged that country of its wealth because Carlos Slim stole it all. See Mike Cernovich's post on Carlos Slim.
Combined with making it illegal or near impossible for foreigners to own American based companies, we can Make America Great Again by removing actual foreign influence on our companies by disallowing foreign investment into all news and social media related companies. The latest Russian hacking fake news hoax demonstrates that the Saudi Arabians have too much influence over the CIA and America but that will have to be exposed by Trump when the time comes.
Watch my pro-conservative, pro-trump film Underdoges on Amazon because I see a bright future for America once Fake News outlets are gone, forever.
Source http://www.breitbart.com/big-journalism/2016/12/16/new-york-times-vacate-eight-office-floors-part-retrenchment-plan/