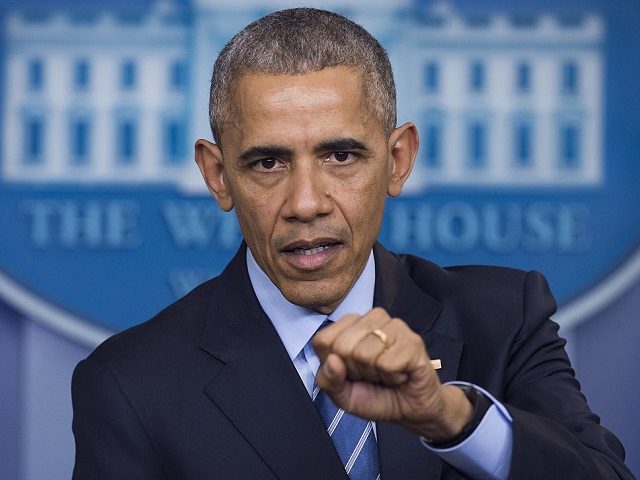 Funny, if Obama wanted to stop fake news, which lead him to win both times as president, he would've called upon the FCC to declare social media monopolies, as well as break up the mega corporate news agencies like CNN, ABC, NBC, NyTimes, etc.
The good news is he believes both sides should take on fake news and deal with talk radio and other "media sources".
Bad news for him is we're too smart for him to know he wants to wipe out alternative/conservative voices. We'll make it fair, after we get rid of all the feral left wing media agitprop. Donald Trump will have a very important task in retaking control of the FCC and make sure it's stacked with loyal anti-trust men who will actually go after all the idiot social media sites like Faceborg (facebook), twitter, and the rest. To stymie foreign influence, he'll have to figure out a way to make it illegal for foreign nations to own stock in any social media or news company that is public or private.
The last part will no doubt be very difficult but Saudi Arabia owns a good chunk of Twitter and Fox News, which is a huge problem. Also, as Mike Cernovich pointed out, Doug Schoen, Fox news analyst, is a Ukranian puppet of an anti-Russia Ukraine billionaire who deliberately agitates for world war 3 with Russia. That is why we have so much hostility towards Russia in the Ukraine during the Obama years. This lead to a civil war where MH17 was eventually shot down over eastern Ukraine. While it was the mistake of the Russian backed seperatists, Karma had to repay the Russians back in kind when ISIS blew up a Russian Airplane in Egypt and another Russian aircraft also crashed in a freak accident.
This is why America should not interfere with other nations and agitate for regime change. A lot of folks get killed so a few asshole billionaires can make their sick money. Trump has 100% recognized this and will deal with them in time. And yes, George Soros and others backed the democratically elected Ukraine that created the civil war under Obama. Go figure.
They will all face justice sooner or later.
Come watch my pro-trump film Underdoges because you could use a great laugh that conservatives would normally enjoy!
Source http://www.breitbart.com/big-government/2016/12/16/obama-fake-news-talk-radio-partisan-media/