I've had a few days to really think about it and vent my rage out. It certainly looks like bad, and it could very well BE BAD.
However, there are some inconsistencies with the idea of Trump just simply giving away DACA, his biggest leverage he will ever have, for free. You don't build a multi-billion dollar real estate company, especially in New York City, by doing stupid shit like that.
Now it's possible that Trump is actually stupid/gullible enough to give DACA away for free, which is why me, Mike Cernovich, Ann Coulter, and many others are "freaking" out. We're just running counter-game back at Trump to make sure he knows we want our freaking BORDER WALL.
And Everify.
And The Raise Act, in exchange for amnestying 5-50 million democrats.
You see, when you stack the facts like this, it does seem very dumb. Even if you're president Trump, you have to be smart enough to see this is a very stupid move. So why do it?
Perhaps you pull another Syria attack. I'll explain.
Remember earlier this year, when Trump attacked Syria because Assad "gassed" children and dumb bitch (she's still attractive so she still gets a little sympathy from me) Ivanka Trump said ," Daddy daddy! Assad is bad! He's a child killer! Kill assad! He bad man!" and we all "Freaked out" that Trump was going to start world war 3 with Russia over a cleverly disguised ISIS/CIA psyop?
If you recall, thankfully, Trump did the best possible move he could under the circumstances. He "attacked" syria, but called up Putin and said "Yo, I'm going to bomb a useless spot on an airfield. I know Assad didn't kill the kids but the world thinks he did so I have to do something. Get your folks out and then I'll withdraw and you move in." and that's what happened. Deep state, traitor globalists, etc, got duped and was temporarily happy.
Until they figured out it was a scam and we the Trump movement were laughing all the way to the patriot's pride bank. The world was at peace once more, for a little while.
Now we're faced with perhaps a similar situation, except the stakes are higher and emotional tensions are MUCH angrier.
You even see maga burning hats:
http://www.breitbart.com/big-government/2017/09/14/trump-voters-throw-maga-hats-twitter-bonfire/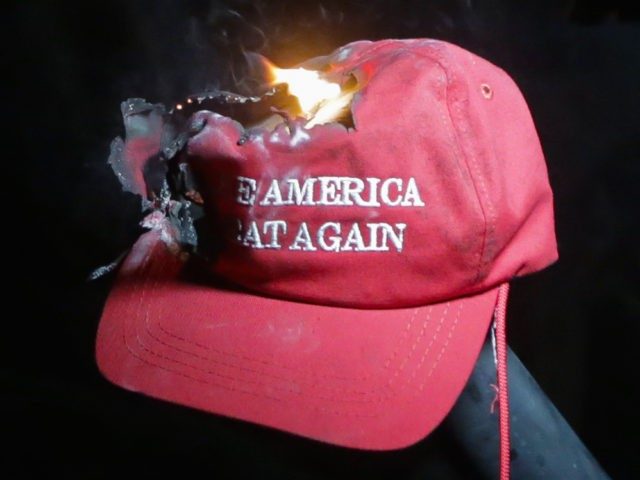 Personally I'm not burning my hat simply because I went through way too much crap and sacrificed way too much of my life and sanity to get Trump in. So I'm invested. Doesn't prevent me from turning on Trump if he betrays his promises to America though. I don't like being cucked.
So let's get to the meat of the matter.
Trump is faced with a huge problem. He has democrat traitors and a large amount of gop cucks (ie paul ryans, john soon to be braindead mccain, etc) that are obstructing the wall, denying funding, and fighting Americans 100% on illegal immigration and refugee inflows.
And probably a million other things, just to annoy Trump/Maga.
So perhaps Trump decided to play a little game. He assumes the worst in people and tries to figure out what they get out of it and…
Ah ha. He figures out if he keeps brute forcing his agenda, he won't go anywhere until 2018. He knows he needs to remove the traitors in both the GOP and Democrat party, but he can't outright say nasty things as President like he use to pre – November 2016 (I think there's a law against it in the constitution somewhere, censure or something like it). He needs his wall. He needs funding from traitor Congress, and he needs to kick out as many illegals as he can reasonably get away with.
So seeing no choice, his only solution (which I do not agree with this but Trump seems to be doing this), is feint compromise. He cucked the GOP traitors by striking his own deal with Fake Tears Chuck Schumer and Nancy Banshee (Pelosi) to get aid to the Hurricane Harvey+Irma folks and made Paul Ryan angry with gaypedo rage.
So, how does this feint DACA giveaway look like (if it indeed is, and none of us are actually sure because of the language Trump himself is using)?
He lures Chuck and banshee into security:
Sen. Schumer Caught On Hot Mic: Trump Likes Me pic.twitter.com/nHHcrkldBg

— Breaking911 (@Breaking911) September 14, 2017
Listen to that hot mic and you'll see that Chuck Schumer is genuinely happy with Trump about DACA. If I didn't know any better, he came in his pants.
Now, listen to this interview with Trump AFTER social media and the MAGA folks harangued him for "planning to give daca away for free" just 1 day after:
Unfortunately I can't find the REAL clip online because it actually contained everything, but Trump said "We'll do something with DACA but if they (democrats) don't give me the wall, we will become the obstructionists."
Edit 9/18/2017 I found it! Alex Jones did a segment analyzing the DACA hoax
The simple fact every fake news outlet that *did* have that interview deliberately cut that line out is what intrigues me.
Also Sebastion Gorka is defending Trump's DACA to Sean Hannity; maybe he knows something we don't?
Gorka also says in the first 30 seconds of the Sean Hannity interview that "Trump knows that his foundation of his platform is immigration. If he doesn't do it, he's [toast]".
So we know Trump knows what's at stake.
With the democrats and gop cucks happy with Trump's "caving" on DACA, and the base (like us) are mad at him, the stage is now set.
Trump hammers a "DACA" process. Hopefully he's smart enough to get something in return, otherwise he could try creating some kind of procedural nightmare that he can abuse down the road. For every 10 dreamers amnestied, give me $5 million for my wall. Something to that effect. I didn't bother with the math but we need $12-15 billion (or maybe more) for the entire 1,000 mile wall, so that's a lot of cash.
If funding is denied, Trump can have stipulation that DACA dreamers be deported or something. This is where the highest risk comes into play. Traitors in congress ignore the president, and well all hell breaks loose.
Another trick, the veto, is where Daca is given away as we all fear, and then the bill gets sent to Trump. This was the original scenario I was writing about in this article but after writing this all out, maybe he's doing this plus the above paragraph.
A bill from Congress, if it passes, becomes law after:
President Signs It within 7 days of getting it in the oval office.
Nothing happens after 7 days
The 7 days are very important. Trump says "Ok, DACA bill looks good, I will sign it if I get what I agreed upon. Where is my separate bill for border wall funding?" Traitors in congress stall and at the last minute, Trump vetoes it. All hell breaks loose, and the base rallies to Trump while we scream at the cucks and troll them.
In either scenario, the risk is still very high Trump stupidly signs daca with a "promise" for something in return. This is the focal point of all our paranoia (rightly so) and rage. Unlike the Syria ww3 attack, this DACA scam is way more complex, which means there are WAY MORE ways to screw this up.
All it takes is 1 screw up and America will become a colony of Mexico. We will ALL have to learn Spanish as our new primary language. I don't know about you, but I *really* don't want to learn a new language.
Assuming anything I mentioned here remotely comes true, Trump vetoes the DACA bill and it's up to congress to OVERRIDE the veto to force DACA upon America. This is where things get VERY interesting.
2018 is still on the minds of some of us and Trump knows he needs more traitor democrats and gop out so he can enact MAGA. The problem is everyone is trying to kill him if he doesn't behave so he has to, by proxy, find a way to shiv the rat bastards without getting his hands too "bloody" and still look kind of presidential. DACA, not surprisingly, is VERY POWERFUL for this.
Anyone who votes for DACA reveals their true colors. We all hate DACA. We will instantly know who truly is MAGA, and who truly are traitor globohomoe elite. This will make voting out every traitor in 2018+ so much easier. "You want more Kate Steinlies! You want more Jamiel Shaws! TRAITOR!" etc etc. It'll be the fun we all had from 2016!
This also gives Trump the excuse he said, that media actually censored "We will become the obstrucitonists". Basically, Trump wants moral high ground to go full Executive order warpath. He will force MAGA to happen. When blamed, he'll say "Hey, I angered my base at great cost to me for DACA, and YOU selfish shitheads refused to give me anything. Fck you!"
And it will be 100% true. What can the left/gop cucks say then? Trump tried, the left didn't. Win. Profit.
So we get high ground to start bulldozing our agenda, we know who are the traitors for 2018 and beyond, vote them out easily, and we sit back and watch as our beautiful wall goes up and wave goodbye to all the damn illegal idiots.
Of course this best case scenario could be wrong (high probability actually) but at this point, I think this is a 40/60 chance of success (40% chance success). Too much risk for me personally.
In the mean time, keep pressuring Trump and make sure he knows what we want. Don't play the "let's wait and see and have faith game". That kind of passivity is exactly what the democrats want and why they always win.
You wouldn't want to give Chuck Schumer what he wants, do you?
Check out my latest book, Mine Bigly – How to earn 200%-808% percent returns mining bitcoin for less than $5 a month in electricity costs because it'll change your life and you won't have to invest in scams anymore.