http://www.breitbart.com/london/2017/07/10/viktor-orban-claims-european-union-following-soros-migrant-plans/
I'm guessing having your country flooded with millions of violent radical islamic terrorists and rapists tends to "wake up" your people.
Unless you live in Sweden, France, Germany, or the Labour Party sections of the United Kingdom, of course.
Hungarian Prime Minister Viktor Orbán has claimed the European Union are implementing migration plans designed by left-wing billionaire Geroge Soros to bring in a million migrants per year to Europe with the help of his army of NGOs.
Deep state fingerprints. America has the same problem albeit we've resisted a lot of the negative drawbacks, for now. This is why stopping refugee flow is very important. I walk around my neighborhood and 10% of the women are wearing full burqas. I live in Iran now it feels like.
According to Orbán, many heads of government across Europe agree with his government's policy on migration but will only say so in private. He also said that because of the recent surge of migration into Italy, he expected the southern European nation could soon join Hungary and others in wanting to secure their national borders.
The Italian government have already made several steps toward securing their border after they saw 13,500 migrants arrive by naval vessels and NGO rescue ships in a 48-hour period. The NGO ships have been accused by Italian prosecutors of cooperating with people smugglers and Italy has even threatened to close its ports to their boats if the traffic continues at the same pace.
The NGOs are money laundering fronts for treason and sedition. Plain and simple. George Soros has really taken NGO abuse to a whole new level. The good news is more and more masculine nations in Europe are calling "Bullshit" on these George Soros front groups and they need to close their borders FAST. They also need to just destroy the ngo's outright. The longer they spend doing regulations, the quicker it becomes "too late" to save their countries.
Or maybe they want this to happen 24/7: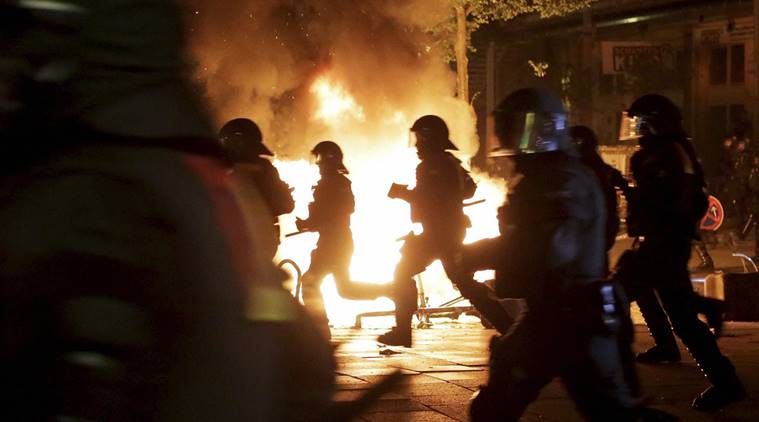 Maybe feral liberals enjoy car-barbeques for their 4th of July celebrations.
Orbán also mentioned former Libyan dictator Muammar Gaddafi who once warned that if his government should fall, then millions of people would flood Europe from Africa. The Hungarian prime minister said that although Gaddafi was no democratic ruler, Western interventionism in Libya was partly responsible for the current crisis.
Ah, so that's another big reason Rotten Sick Hillary had Gaddafi killed in Libya. He spoke too much truth in addition to not cooperating with central banks. Damn.
Oh well, he did murder a bunch of civilians on an airplane decades ago and never paid the Karmic price for it (his daughter died in a US lead bombing raid but that's because we didn't know she was there and thought he was instead. Oops).
Personally I would have been ok with prison for Gaddafi and a peaceful transition of power in Libya but clearly deep state had other ideas.
Anyway, as the truth mercilessly marches forward, expect more people to become woke. With the Syria cease-fire in place thanks to Trump/Putin cooperation, and the world war 3 with Russia narrative dying thanks largely in part to Mike Cernovich and us patriots, the fake news ability to agitate for ww3 is strongly diminished.
And if we don't have world war 3, we can continue waking people up and exposing deep state and every traitor for what they are. Then the treason trials can begin in earnest.
We'll find out!
Check out my latest book, Mine Bigly – How to earn 200%-808% percent returns mining bitcoin for less than $5 a month in electricity costs because it'll change your life and you won't have to invest in scams anymore.